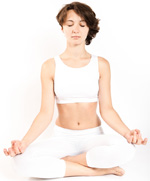 Price: £600
Are you interested in yoga? Wondering how to get started with the yoga practice or doing yoga on and off and having difficulty in finding the proper way to guide your yogic journey?!
Yoga Experience India school in Rishikesh, India offers 10 day yoga courses for beginners. It's a perfect opportunity to establish a strong foundation, deepen your practice, or experience yoga for the first time, with a group of like-minded people. Yoga Experience India Ashram invites you to explore your inner potential by practicing yoga in a disciplined manner under the guidance of yogis in an environment which will develop a sense of your own space and help lead you to the essence of your soul. Our yoga beginners' course is designed for those who have already been practicing yoga, as well as for those who just started or who would like to start, and who are perhaps missing the feeling of spiritual growth or feeling centered within the self.
In our beginners' course we focus first on getting to know each individuals' body and its capacity before strengthening and toning the body, improving flexibility and enhancing the sense of well being by practicing the basic aspects of yogic asanas in depth; with a proper understanding of each practice, correlated with breath which enables the practitioner to find the balance between body, mind, breath and spirit.
Our aim is to give an authentic understanding of yoga so the student can build a strong foundation for him/herself by understanding the main aspects of yoga teaching, how to use different tools of yoga principles properly to gain maximum benefits and enhance the yogic journey in life.
Some of the classes of the beginner's course are held in conjunction with our yoga teacher training and graduate program; this course provides a perfect opportunity to expand your yoga practice in a relaxed and tranquil environment. If a beginner's course student would like to take his practice forward, and go deeper to get more experience, he could join our yoga Teacher Training Course (200 or 500hrs).
With Yoga Experience India teaching team on site, you can be assured of a rich, varied and holistic experience of yoga while at the same time enjoying the exotic surroundings that Rishikesh has to offer; The holy Ganga river, rice fields, temples and local markets. It is the ideal place to adjust to the Indian way of life and the perfect launch pad for travelling around Rishikesh or the Himalayas after the retreat, if your schedule permits it.
The Ashram is ideally situated in a stunningly beautiful, quiet and peaceful environment, whilst still being within walking distance of the Centre of Rishikesh.
The Yoga Experience India Beginner's courses schedule includes:
1. Two practical Yoga classes daily including correct body alignment
2. One meditation session daily
3. One philosophy lecture / group discussion twice a week.
4. Internal cleansing practices (Shat Kriyas), twice a week
5. Pranayama
6. Course text books
7. Japa Mala
8. Yogic clothing
9. Delicious, vegetarian, sattwic meals made with natural foods; breakfast, lunch, dinner every day. (Local fresh vegetables, pulses, salads, fruits, fresh buffalo milk, herbal teas etc)
10. One free day for excursion to nearby spiritual places accompanied by ashram staff
Though we recommend undertaking the complete program, our guests are also welcome to choose activities from the program depending on their personal preferences and needs.
Dates & Schedules
Book this tour
(ALL fields are required)